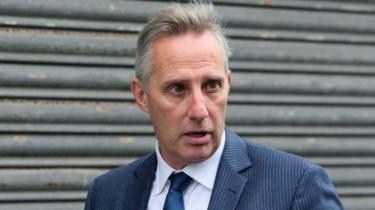 The fine is a sanction against the DUP man for accepting money from two Northern Ireland councils for attendance at a fundraising dinner.
The event was addressed by the senior Conservative Michael Gove.
Mid and East Antrim and Causeway Coast and Glens councils took tables at the dinner at Tullyglass hotel in Ballymena in September 2017, each paying £1,500.
The councils said the payments had been made to the hotel for attendance at a business related event.
However, the commission decided the dinner was a fundraiser and councils are not regarded as legally "permissible donors" for political parties.
It is understood the North Antrim MP has agreed to return the money to the councils and the £1,300 fine is in addition to that.
The fundraising dinner was not the first time Mr Paisley has been in trouble over financial matters.
In July 2018, MPs voted to suspend him for 30 sitting days.
It followed his failure to declare two family holidays paid for by the Sri Lankan government in 2013.
In 2014 Mr Paisley wrote to the prime minister to lobby against supporting a UN resolution on Sri Lanka over alleged human rights abuses.
By failing to declare his trips, Mr Paisley "breached the rule against paid advocacy", a Westminster standards committee said.
In 2008, Mr Paisley resigned as a junior minister at the assembly following criticism over his links to developer Seymour Sweeney and allegations he lobbied on his behalf.
An ombudsman ruled there was no evidence to suggest he had broken assembly rules, but he stepped down, saying: "The criticism has been a distraction and has got in the way of the activities of this government and importantly it has gotten in the way of the activities of my political party."
The Electoral Commission is the official watchdog, which regulates the funding of political parties in the UK.
It says the fine has been imposed due to Mr Paisley's "failure to return donations from impermissible donors within 30 days of receiving them".
A commission statement says the two variable monetary penalties totalling £1,300 have to be paid by 8 October 2020.
Philip McGuigan, Sinn Féin assembly member for North Antrim, said it was "frankly unacceptable that a local council used ratepayers' money for what was essentially a party political fundraiser".
"I called on the Electoral Commission to conduct an investigation into the matter at the time and welcome that has now been concluded," he said.
"Local councils should represent everyone. It is equally unacceptable that the DUP consciously or otherwise failed to declare this donation."
Mr Paisley took over as MP for his father's former North Antrim constituency in 2010 and has subsequently been re-elected with large majorities.
With many thanks to: BBCNI and Mark Davenport Political Editor for the originalstory