To hear the final ruling in the judicial review taken by the Retired Police Officers NI (NIRPOA) against the Police Ombudsman (OPONI).
Late last year the court ruled in favour of NIRPOA and today the families will find out the implications in terms of their report that concluded that there was collusion with security force members in the murders of their loved ones. Today's ruling may also affect other families awaiting reports from OPONI.
PFC is in court in solidarity with the Loughinisland families and will update as soon as we hear the ruling.
With many thanks to the: Pat Finucane Centre
Loughinisland: Judge delays ruling on report
A judge has delayed his ruling on a police ombudsman's report into the murders of six Catholic men in 1994.
He said the ombudsman's new legal representative needed time to read himself into the case.
The men were shot dead by loyalist paramilitaries as they watched a World Cup football match in a pub in Loughinisland, County Down.
In June 2016, the police ombudsman ruled there had been collusion between some police officers and the gunmen.
But last December, a judge ruled that conclusion was "unsustainable in law".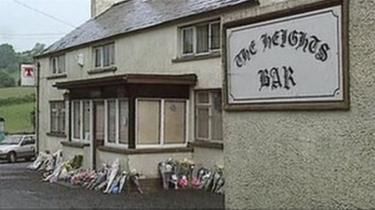 He said the officers accused of collusion had been "in effect tried and convicted without notice in their absence".
Two retired officers are attempting to have the report by Michael Maguire quashed in a legal challenge.
A judge had been expected to make his final ruling on Friday, but that has now been postponed.
The victims were watching the match between Ireland and Italy when loyalist gunmen burst into the Heights Bar and opened fire on 18 June 1994.
The men who died were Adrian Rogan, 34, Malcolm Jenkinson, 53, Barney Green, 87, Daniel McCreanor 59, Patrick O'Hare, 35, and Eamon Byrne, 39.
Five others were wounded.
With many thanks to: BBCNI for the origional story.