Connor spoke of her connections with Republican Network for Unity which is known as the political wing of ONH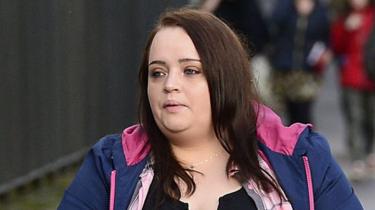 At Belfast Crown Court on Wednesday the 35-year-old was convicted of four offences, including two counts of causing an explosion.
The charges relate to two incidents in north Belfast in May 2013.
The judge remanded Connor in custody and said sentencing will take place on 20 August.
The court previously heard that Connor made bogus 999 calls to police on two separate occasions.
In the first incident on 16 May, Connor made a trial run and threw a pipe bomb on the Ligoniel Road.
Later, on 28 May, she lured police to the Crumlin Road before attacking them from an alleyway with two pipe bombs.
In the second hoax call Connor tearfully claimed her name was Gemma and she was the victim of domestic abuse.
Police attended a house on the Crumlin Road, and as one officer was knocking the front door, a pipe bomb was thrown at another officer from a nearby alleyway.
As he tried to evade the explosion, the officer tripped on a kerb and as he lay prone, a second pipe bomb was thrown onto the road.
'Evasive and argumentative'
Connor was first convicted in 2017 and jailed for 16 years, but was released in December 2018 after appeal judges overturned her conviction and ordered a retrial.
Connor, whose address is subject to a reporting restriction, denied the offences.
She was found guilty of one count of attempted murder, one count of preparation of terrorist acts and two counts of causing explosion likely to endanger life.
Connor was linked to the charges with DNA evidence from clothing as well as mobile phone evidence and CCTV.
The judge said the prosecution's case was built on a "combination of circumstantial, physical and forensic evidence" and that he was satisfied that Connor has searched online for how to make pipe bombs.
He ruled that she was "clearly involved in the planning, making and deployment of the pipe bombs," and that her intention was to kill the police officer.
Connor stood trial in a non-jury hearing at the end of 2019.
Giving his ruling on Wednesday, the judge said that having had "the benefit of seeing and hearing the defendant give evidence and be cross-examined…I found her evasive, argumentative and, when it suited her, refused to answer questions."
A woman has described as "ridiculous" an allegation that she transported pipe bombs in a supermarket bag just prior to an attack on police.
Christine Connor, 34, whose address is subject to a reporting restriction, is on trial before Belfast Crown Court.
She denies six charges arising from two incidents in the north of the city in May 2013.
The first occurred on 16 May, with the second taking place on 28 May.
Ms Connor, who was called to the witness box on Tuesday, has been charged with, and denies, two counts of possessing explosives with intent, two counts of causing an explosion with intent to endanger life, attempting to murder a police constable and the preparation of terrorist acts.
Under questioning from her barrister, Tim Moloney QC, Ms Connor spoke of her republican background and her involvement with the Republican Network for Unity (RNU).
When questioned about the two incidents in north Belfast, Connor admitted she was out for an early morning walk in the area at the time of the second incident, but denied involvement in both.
Mr Moloney asked his client about her education, family background and employment history.
She was then asked whether republican politics was an important part of her upbringing, to which she said "yes, very much so".
Ms Connor said that around late 2012 and early 2013, she was actively involved with RNU which she described as "a political organisation, not an armed group".
Ms Connor said she and other members took part in protests, pickets and camp outs "to highlight the plight of republican prisoners", with one such protest taking place outside the Alliance Party headquarters in south Belfast as at that time the party's David Ford was justice minister.
She was asked about former co-accused Stuart Downes, who was charged with offences linked to the incident.
Downes, who the Crown say assisted Ms Connor by purchasing component parts for the pipe bombs and ensuring they were delivered to Northern Ireland, died in June 2016.
Ms Connor denied communicating with Mr Downes and when she was asked if she ever pretended to be Swedish model Sanne Andersson, she replied "no".
Mr Moloney then questioned his client about movie clips – one of which was found on Mr Downes' phone and another on a laptop found in a mattress in her bedroom.
It is the Crown's case that one of the clips is Ms Connor conducting a "dry-run" of the route she planned to take before launching the first pipe bomb attack on 16 May.
Connor was charged alongside Stuart Downes from Shrewsbury.
The 31-year old was subsequently granted bail and was found dead in woodland near his home in June 2016.
The judge said that between February and May 2013 "they researched pipe bombs, with Downes purchasing component parts and ensuring they were dispatched to and received in Northern Ireland where they were deployed by Connor."
During the trial, the prosecution said Connor and Downes met online and established a relationship when Connor was posing as a blonde Swedish model called Sanne Anderson.
When arrested, Connor denied she knew Downes and rejected claims she communicated with him.
She continued these denials during the trial, but in his ruling the judge said there was overwhelming evidence to suggest otherwise.
The court heard that the month before the two explosions, an "intense relationship" via SMS and Facebook messages developed between Connor and Downes as they researched information on pipe bombs.
During her arrest on 29 May 2013 police searched Connor's home and found two laptops and a phone hidden in a mattress in a bedroom.
When these devices were examined a movie file was located which depicted a woman walking in north Belfast and talking about police.
This video was described as a 'practice run' and despite denials she had made the video, it was ruled that it was Connor in the film. This same clip was also located on Downes' mobile.
The judge also ruled that the laptops found in the mattress were linked to Connor, and that prior to the May 2013 explosions, online searches such as 'how to make pipe bombs in your kitchen' had been made.
Speaking outside court, Det Supt Richard Campbell described the case as "hugely complex and unusual" with several UK police services working together to gather evidence.
"This was an attack on police officers, who were carrying out their role of protecting communities," he said.
"I would like to pay particular thanks to them. This was a traumatic experience for them and I acknowledge that as victims they have waited a very long time for today's outcome.
"Today's conviction is the result of excellent joint working between the PSNI and West Mercia Police alongside the West Midlands Counter Terrorism Unit and we will now await the sentencing."
With many thanks to: BBCNI for the original story 
Follow these links to find out more: https://www.belfasttelegraph.co.uk/news/northern-ireland/christine-connor-trial-pipe-bomb-allegations-ridiculous-says-defendant-38771651.html
(2)-: https://www.newsletter.co.uk/news/crime/christine-connor-guilty-belfast-woman-who-posed-swedish-model-part-terror-plot-convicted-attempting-kill-police-2927652